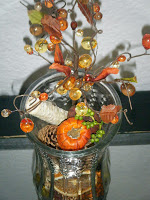 Autumn is the season between summer and winter comprising in
the northern hemisphere usually the months of September, October, and November
or as reckoned astronomically extending from the September equinox to the
December solstice —called also fall (according to Merriam-Webster).
For me, it's a season of anticipation. The imagery, the
slight drop in the godawful Florida
temperature, the parties and cider are all just a warm-up for winter. It's a
period of time that ushers in another. It's practice for the big event. Autumn
looks at your decor and says, "You think this is festive? Christmas is
coming; drop and give me twenty!"
This segment of the year seamlessly dims the light of summer
into the coziness of winter. The twinkling lights get increasingly sparkly-er.
(Yes, I said sparkly-er.) The invitations and events, more plentiful. The
family time, more meaningful. The soundtrack, more enchanting. I'm listening to
Miles Davis as we speak…with twine pumpkins wrapped in white Christmas lights
glowing next to me and "autumn" scented oil warming the air. The
combination takes me away to a swanky coffee shop in a city (preferably a
chilly city where wearing chunky, knit sweaters and stylish boots are
apropos).
Much of it is mind over matter as unrelenting
Florida
heat won't
really cease until mid-November. I'm also nowhere near that swanky city, nor in
any sort of
comfortable
circumstance in my life, but for the sake of
my sanity, I will enjoy these fall nuances.
Most importantly, autumn is a time of thankfulness and, if
you're reading this, we have something in common: we both have plenty to be
appreciative of.