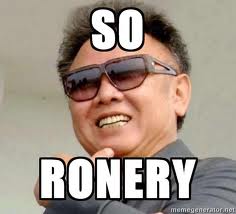 This week, Kim Jong Il was added to the list of "evil-doers" to meet their maker in 2011. Yes, the Il-meister joins Moammar Gadhafi and Osama bin Laden in no longer roaming the planet, finding ways to bring pain and suffering to all of the peons.
The deaths of these three dictators has sparked a discussion about the appropriateness of celebrating death.
Before I start joining the ranks of those singing, "Ding Jong the Kim is dead," I'm not sure how much cause for celebration this should be, as I am positive that many more just like him are waiting in the wings. Wiping out all "terrorists" is a pipe dream.
Celebrity or civilian, when I see people bringing destruction to themselves and everyone around them, I see a tormented soul. It's not that I want to take in all of the strays of the world, but I can stand back and see the situation objectively, even when I am intensely angry with someone who has personally hurt me. I don't know that it's forgiveness, but under that umbrella is understanding (not to be confused with condoning). Just because I can put together why a person is being such a rabid dog, doesn't mean I don't have negative feelings towards them.
A person who is at peace and has found happiness, will live and let live. They'll strive for harmony and positivity. They will typically have a moral compass, to some capacity. When I see these struggling souls, I do think they would have an end to their suffering (and the suffering of those around them) if they were laid to rest. This doesn't mean I think we should take the liberty of bringing all of the Kim Jongs of the world out back and putting them down. When their time is up, God will bring them home.
So on one hand, sure, I took a sigh of relief upon hearing the news that the oppressor had passed. But on the other, making a piñata out of Gadhafi's body and televising it was a bit sadistic. Isn't the avenger just as sick and twisted as the sinner in that case?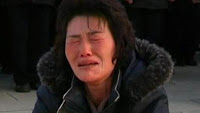 All I know for sure is that it's not my place to take a life and that taking pleasure in death is disturbing. No, you won't see me wailing in the street like this North Korean———————————————–>
But you also won't see me taking cell phone pictures of the person I hate's corpse. (I was going to also include a photo of the heartless bastards who think there will be no consequence in the afterlife for murder, as long as it was against a power-hungry leader, but the images were really graphic, so feel free to Google "Gadhafi dead photo.")
Now, I leave you with this hilarious website called, Kim Jong Il Looking At Things, since he was, after all, an enormous source of comedy despite despicable human being that he was.