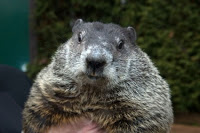 It turns out, my best intentions at blog-writing get lost when I get home.
I sit in front of a computer all day at work. I might be getting carpel tunnel, my neck and shoulder muscles are becoming as crippled as a 90-year-old woman's and my vision is going. Surely, some optical damage is occurring, so the last thing I want to do is look at a computer screen in my free time. But, alas, there are fun things online and hell, I use my laptop as a TV, too, so this machine is sort of unavoidable.
I plop down on my bed against pillows in a way I could never relax at work, so I justify that it's not as bad on my neck. I open my laptop unnaturally (like the unhinged jaw on the old Reach floss commercials) and prop it up against my bent legs. Then the browsing begins: mindless entertainment in the form of Hulu, videos of adorable kittens and the always amusing Sassy Curmudgeon blog.
What was I going to do? Oh. I had an idea for a blog and was going to elaborate, writing a sophisticated and comical entry to rival anything I had previously written. But I'm tired, my neck hurts, my arm hurts…I believe the technical term for my malady is a case of the don't wannas…about life in general. I go to bed late, wake up early, lather, rinse and repeat.
Welcome to Groundhog Day. (Literally. It's February 2nd.) You know, that time in your life when you wake up and every monotonous day is the same? When you are not living life to your fullest, but instead are running on auto-pilot and doing the uninspired, bare minimum just for this season in your life?
Here's something productive I did today: I made sure the masses would be well aware of Punxsutawney Phil's decision regarding winter 2012. You're welcome.