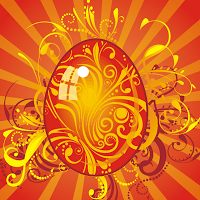 It's Easter and this means something to you for two reasons:
1) I clearly force myself to blog on holidays because if nothing else has been going on, the holiday is an instant conversation starter.
2) This is a day for new beginnings.
No, I cannot say, "The sun is shining, the birds are chirping and spring has ushered in a new day for me," but I'm working on it. I may be crawling back into the sunshine with dark sunglasses and a wicked hangover, but I'm easing my way out.
At mass, the priest discussed the boulder that blocked Jesus' grave and how the visitors must have been wondering how they would move it, so that they could pay their respects to his body. When they arrived, it was already moved. Jesus had moved it himself.
The priest reminded us that we all have stones blocking our path that we think we can move on our own, but we can't. We need God's help.
For non-believers, the take home message is that we can't do it alone, that we're human and frail and need assistance.
And while we're on the subject, I hope that all non-Christians can still see the magnitude of Good Friday, at least as a historical event. Setting aside whether you believe Jesus was sent to die for our sins or that he rose on the third day, the fact that he was killed for preaching a message of peace is still pretty intense. If a thirty-three-year-old, non-violent, activist was beaten and nailed to a piece of wood in the desert today, the world would be outraged. Move over Trayvon Martin!
Granted Jesus lived in a time when torture was acceptable and watching gladiators fight slaves to the death in an arena was like an afternoon at the movies, so it was a pretty barbaric time to begin with, but even if the activist were killed by lethal injection it'd be controversial.
Whatever you did with your holiday, I hope you had a relaxing, celebratory day of reflection and appreciation. And that you had your fill of Cadbury Mini Eggs.