Dear Multiple Individuals Who Want To Compare Slain Sniper Chris Kyle's Death To Whitney Houston's (under the assumption that our President cared more about a "crackhead" entertainer than he did a soldier),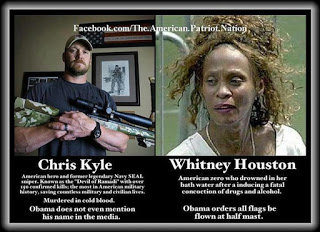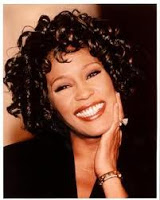 I, like most Americans, can't attest to whether the President noticed either one of their deaths. You may say that's a problem because we should honor every soldier/sniper lost and should know their names. Wouldn't that put the families in danger? Anyway, let's compare these two humans (as no better than you or I, just for a moment): One was a sniper. He made a career, his life's work, out of taking the lives of others. A sniper is a veritable Grim Reaper. The other was an entertainer, inspiring many for decades the globe over. I would venture to say life-giving. Don't get me wrong, she wasn't a doctor or Gandhi. And yes folks, crack is indeed wack. Her drug problem killed her. But before you get on your high and mighty horse about "crackheads," have you ever battled addiction? If not, this is where your argument ends. PERIOD. If you have known and loved a person who has battled an addiction, you know how all-consuming and horrific it is, and at a certain point, the person is no longer in his or her right mind. (Their actions are not excusable, however. I am painting a picture.) How do you know, in all of you Internet research, that Chris Kyle did not suffer any addictions at some point in his life? So, continue plastering hideous photos of Houston in the throws of her addiction, next to our American Hero (whom you never gave a shit about while he was living and struggling to feed his family, etc….just as much as you cared about the state of addiction therapy in this country) in a far-fetched attempt to paint Obama as having skewed values. Because this makes you look credible and well-researched.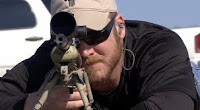 Sincerely,
A Sister To Both A Soldier And A Recovering Addict
P.S.- Thanks for causing more divisiveness instead of simply honoring the man you supposedly cared so much about. Using a man's death to make your political argument sounds totally appropriate to me.