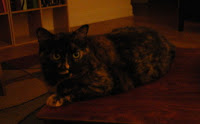 I believe my new cat, Ophelia, either A) has something dead inside of her that just won't pass or B) is slowly decomposing, herself. She happily skips out of the bathroom and then, it comes…a smell only comparable to a full Port-O-Potty that has been sitting in direct sun for a year. After cleaning the cat box, it takes air freshener, a battery-operated "Scent Bug" from Bath & Body Works and about an hour and a half to even begin to dissipate the aroma.
Now, I'm no novice when it comes to cats. It's a prerequisite in my family that all members of the bloodline must own a feline. When I was born, one of our many family cats, Pearl, insisted on sleeping in my crib despite my mother's best efforts to protect me from a smothering death by cat hair. At one point, we had 17 cats. Yes, I understand now that were ready for our close-up on the show Hoarders. I witnessed several cat births and many cat deaths; the circle of life was not censored to my 8-year-old psyche. Really, I could probably be the Cat Whisperer.
Marilyn Monroe, the cat that I have had for two years prior to Ophelia, is dainty and sweet…and odorless. What she lacks is disturbing scents, she makes up for in tumbleweeds of white cat fur. They look like little cat babies, like the offspring of Gizmo from Gremlins after he had been doused with water. Still, I'd rather be forced to vacuum feverishly than to burn the insides of my nostrils with Ophelia's vapors.
She is a giant beast of a tortoiseshell cat who has yet to turn down food. Ophelia lays like a dog, with her head down, or flops spread-eagle. Oddly for her size though, when she slinks through the house, she looks like a panther stealthily sneaking up on you. Her glowing jade eyes and tiny purple bell are all that give her away. Oh, and the stench.