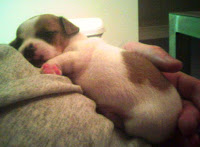 Fabulous at 4 weeks old.
I have always had a deep connection with animals.
Not only am I fascinated by them, but I was born into a family of animal lovers, especially when it comes to cats. There has never been a time when I have not had a pet in my life, and I imagine it would be very lonely if I did. The example was set for me; they are a part of what it means to have a complete family. When everything else was amiss, the fact remained that there would be an animal companion. I didn't have a nuclear, picket-fence-family or upbringing, but pets were non-negotiable.
(*Now's a good time for a disclaimer: I am not an animal hoarder. I currently have one dog and do not want a second one. I understand the time and commitment level necessary to be a responsible pet owner. I firmly believe that animals are a lifetime commitment and not some frivolous object to get rid of when it becomes inconvenient. **Also, I only dress my dog in clothes on holidays and certainly do not carry him in a handbag…)
It's true that if you are not a pet person, you will not understand any of this.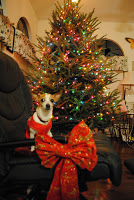 Fabulous at nearly 7 years old.
Having a cat or dog depend on us teaches us to think outside of ourselves. We always have someone at home waiting for us and needing us. Experiencing their affection teaches us unconditional love. Perhaps when no one else will touch us, they will. It's the only way they can "tell" us they love us, and they do, even when we don't deserve it. They are grateful and content with a very simple life.
This brings me to my most recent finding: pet owners have a certain level of compassion that is missing in non-pet owners, especially if it has been cultivated from a young age. Compassion is learned and what better way to learn it?
Watching the birth of many cats and the death of several animals, from cats, to dogs, to ferrets, a hamster and even a few fish, I was exposed to the circle of life from a young age. It has been intensely sad to hold animals as they have been put down due to illness and I know the day will come when I will lose the dog I have now. It is so upsetting that one would wonder why anyone would ever put themselves through it again, but we always do.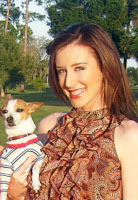 He even looks like me…
As Alfred Lord Tennyson said, "'Tis better to have loved and lost than never to have loved at all."
The tears we shed in their passing are proportionate to the impact they had on our lives. And they are so worth it.