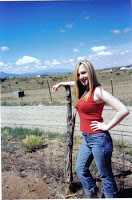 2004: Welcome to Santa Fe
In 2004, I went to Santa Fe to visit my mom for the first time since she had retired out West. I was at a crossroads in my life and had also recently come to terms with a lot of emotional baggage I had been carrying around. I felt like my best self, but also was unsure of what I was going to do in terms of finishing college.
While I was there, my mom successfully convinced me that the potential to have both art and acting careers in Santa Fe was greater than where I was wasting my life away, in Southwest Florida. I couldn't afford to up and move to New York City or California and felt moving to New Mexico and living near my mom would be less risky. So I decided to make the leap just before my 21st birthday.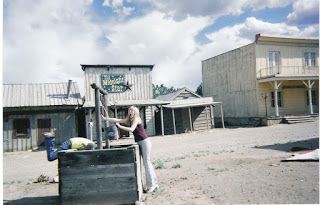 Clearly I was made for the movie set.
As happens when one is self-confident and not looking for love, I met my ex-husband right before I moved. I didn't let that sway my decision and soon after, he moved out to Santa Fe to be with me and escape the sleepy retirement town we had both been living in. The rest is another blog post.
I left Santa Fe broke in 2006. I was broken in every sense. Though I got back on my feet with a vengeance, I haven't been back to New Mexico since then. I only lived there for a short time, but the lessons I learned were monumental.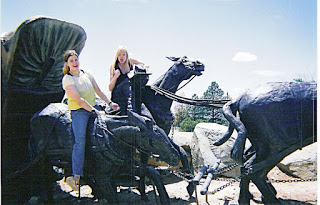 Climbing on museum statues for fun…I'd still do it.
In 2012, I'm in a shockingly similar situation to where I was at both of those landmark years in my life when I chose to make the cross-country relocation. I am craving the serenity and healing that land provides, but also I need my friends and family that I haven't seen in six years.
Though I was never into the whole western-desert-Native American decor that so many people go West for, I now have a place in my heart for it.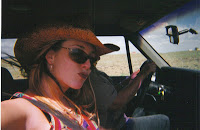 2004: Sportin' my new cow girl hat
Don't plan on me announcing a move back West upon my return from vacation; I recognize now the value of staying in suburbia and travelling often, rather than living in a city and never being able to afford to get away. I will move again someday, but I don't yet know where or when.