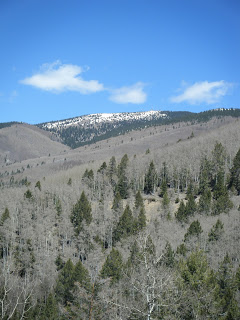 In the Sangre de Cristo mountains
I don't like flying, though by the end of my recent trip, it was a breeze. Direct flights now involve landing mid-trip to let other passengers on and off the plane, meaning double the amount of terrifying take-offs and landings before arriving at your destination.
When flying into the Albuquerque airport, you know you're almost there as you glide and bank over the most magnificent mountains. The plane shakes a little against those old, familiar winds. Seeing the earth from above verifies that dry land was once under water. The deep scars and cracks on the surface, the lines that look like dried-up rivers, it all looks like an "after" image of water-logged and island-speckled Florida, post-apocalypse.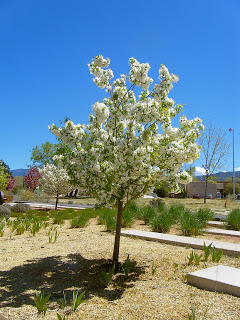 As I reached that point in my flight, I surveyed the land and tears started streaming down my face, without warning. Was I crying because I was home? Because I was upset that I ever had to leave? Because I no longer know where "home" is? The latter seems most plausible. All I know is that a flood of emotions washed over me as I saw those mountains. I needed a break from life so badly and maybe I was just happy to be getting it. I was also upset that a "break" was even necessary. I was crying for 10,000 reasons that can't be translated into words, but a wake up call was delivered.
A lot has changed in Santa Fe since the time I lived there, but a surprising amount has stayed the same. My vacation can only be described as a paradox as I tried to make sense of old and new. Family and friends were the same, but were also different as individuals now. I made sure to visit some of the places that mattered to me before, while discovering some were altered now. I took a cab by myself to one of my favorite bars, Cowgirl, to see a bluegrass band play and ended up meeting amazing new people.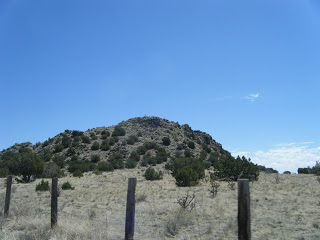 The actual Lone Butte.
Out of the city limits, the Turquoise Trail hosts an area called Lone Butte (get it out of your system right now, U.S. Easterners, it's pronounced beaute, not butt), named for the small-in-comparison, isolated, rock structure that stands apart from the surrounding mountains and hills. From the Lone Butte area, the Ortiz, Jemez, Sandia and Sangre de Cristo mountain ranges can be seen. It's dusty, windy and littered with choya cacti. It's amazing land to put it mildly. This was the first area I was ever introduced to in New Mexico and is the exact opposite of the green, humid, Florida neighborhoods I was used to.
I used to associate that area with my mom's trailer and watching the Doppler radar as Hurricane Charley demolished my hometown, a place I had left only a week before. My mom's huge, rottweiler, Annie, would paint my clean pants with dirt and drool from spending her time as a yard dog in that clay-like sand. I remember multiple foot surgeries and meeting local actors who took me out, but had to pull the car over as a I puked in a parking lot from the antibiotics I was taking. I associated the Lone Butte with my heartache for my ex-husband, who was only a guy I had met a few months earlier in Florida, but was head-over-heels in love with already. We would write love letters and spend hours on the phone.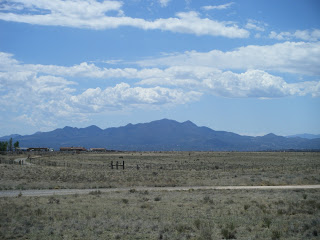 The Ortiz mountains
Now, my sister lives in that neck of the desert and I have her place to associate there. One of my new friends also lives out there. In fact, the actual, famed Lone Butte is on his property. And an ornery goat of his lives on the rock formation, refusing to come down.
I was comfortable driving around the city. It was like I had lived there all along. I loved reading the Santa Fe Reporter and the Pasatiempo, seeing all of the cultural and artistic events going on in any given week. Indie movies, open mic nights, shows, gallery openings and the like are a regular weekly occurrence, not at all like Southwest Florida. Natural food stores are the rule, not the exception. And I got my sopapilla fix.
Important note: If you have not eaten a New Mexican sopapilla with honey, please add it to your bucket list.


Without a doubt, there was melancholy over memories of my past life and the hope I had, but there was a new appreciation emerging as well. I brought that peace and serenity back home with me, though I'm not sure where "home" is. I thought to myself on the plane ride back, that my job is the only thing I had to come back to, not that I'm ready to let that go, and not that Santa Fe holds my future. I have always felt like a rolling stone, but now more so than ever. Maybe this world is too big to put down roots.
Click here for some Santa Fe song action: http://youtu.be/oxqnFJ3lp5k