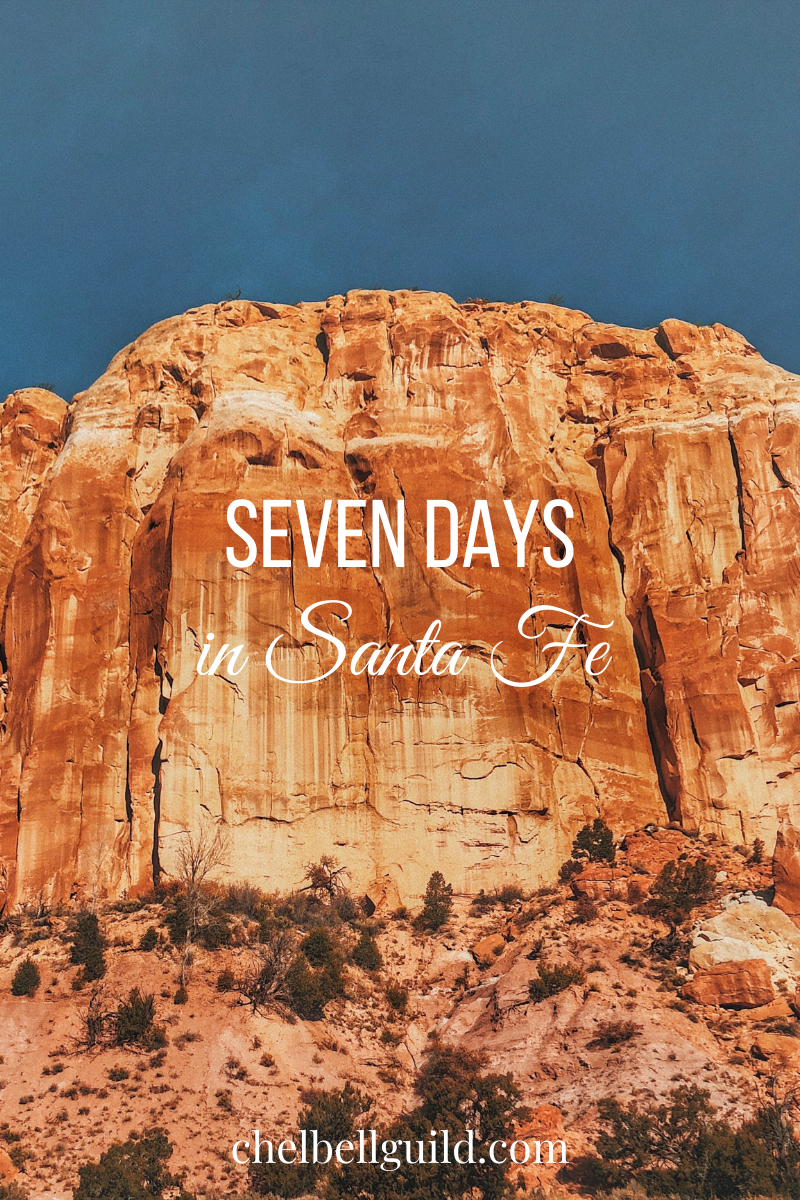 There's nothing like fall in Santa Fe, New Mexico. I've been many times and even lived there briefly. During this trip in 2012, I went to visit friends and family and to scope out New Mexico University. Most of the perspective and suggestions I offer here remain the same, many years later.
Day 1: I started my day in Florida where I looked up for a moment of zen and saw a sky so blue, it was becoming purple. It was sunny out, not dawn, and up against the vivid green leaves of the trees, the contrast was intense. It was an explosion of color.
Later on the plane, with every single seat full, I thought about it being the only circumstance where we Americans are accepting and understanding of being so close to strangers. I was touching my fellow passengers (arm-to-arm and leg-to-leg at many times) and though I don't think it's anyone's ideal way to travel, it's understood and forgiven. There is something completely against nature about a group of humans racing through the air in a metal object 30,000 feet above the earth. We all know how completely insane that concept is and it's as if we're all survivors, huddled together with every minute that passes on the flight.
Toward the end of my flight into Albuquerque, I witnessed the most magnificent sunset. I had the best seat in the house for that show. Fire orange sprawled the horizon, bleeding into a yellow becoming a green-blue, which floated into that indigo of night and outer space. The sun was a flaming ball I could actually watch, as it disappeared below the mountains.
In the twilight, the cars below seemed to be zipping past, as if the view of the road was a film in fast-forward.
Getting to Santa Fe from Punta Gorda is a pretty long trek, but I'm not complaining. It begins with a two-hour car ride to the airport, continues with a five-plus-hour flight that makes one stop (but is otherwise a "direct flight") and ends with an hour-long trip by car (or in this case, shuttle). It still blows my mind that I can be in two drastically different places all in the same day.
Day 2: The chamisa caused an allergy flare-up, but I didn't let that stop me from bargain hunting with Mom, enjoying New Mexican food at Tortilla Flats (a staple) and driving 15 miles up the Sangre De Cristo mountains to see the aspens changing colors. On the way up the mountain, we saw rare blue woodpeckers, a family of deer and…trailer after trailer of movie equipment, horses and most likely, movie stars. The trailers were coming from the ski basin, where some movie or show had obviously just wrapped up filming.
At one point, we stopped at a scenic lookout to take pictures, when I saw a caravan of trailers and luxury vehicles rounding the winding road. I was definitely on display and felt like a tourist, so what else could I do but strike a Vanna White pose, smile and wave? Well, I got some of their attention as the guys leaned out the windows to wave and yell hello. My mother was star-struck, with her eyes and mouth wide open, shuffling her feet and saying excitedly, "They looked familiar!" She swears Dennis Quaid and Johnny Depp were among them. But alas, they did not stop to invite me to the after-party.
We picked up a Santa Fe Reporter and hot cocoa from Whole Foods on the way home. I was sure to take pictures of the "pumpkin trees" and firewood on sale…officially felt like autumn.
Day 3: Though I've been through the town of Cerillos (where Young Guns and other movies were filmed)several times, it never gets old. Imagine a couple of streets in the middle of the desert where hippies landed in the 60s and never left. There's a small museum, a "petting zoo" (a pen of chickens, goats and a random llama), a bar, the Whatnot Shop and a church. Signs reading "Obamanos! Gotta Vote!" were stuck on the dusty street corners (I would keep it fair and balanced by putting the equivalent of Romney's sign here, too, but I have yet to see one in New Mexico.) It was inspiring to see that these people, who are so removed from the rest of the country, are still active in the political process.
I bought a goldstone necklace while there. Years ago, I bought a silver buffalo necklace in that same store and found out afterward that it symbolized endurance, which was appropriate at the time. Unfortunately, it was stolen when my house was burglarized in 2008. Someone else needed it more than me and it must have been time for me to move on. I found out that goldstone symbolizes energy and is associated with the throat chakra, something I've been struggling with for the last year.
Later that evening, I went to the closest place to Heaven on this earth: Ojo Caliente. My friend picked me up and we drove an hour outside of Santa Fe, through Espanola in the darkness and up into the land of No Cell Phone Reception. We arrived at the surprisingly affordable oasis, slipped into our bathing suits in 40-degree weather and hopped from spring to spring, each hotter than the next. We soaked in iron, arsenic and soda at temperatures up to 107 degrees. Pinon fires burned around us, filling the air with an amazing, incense-like aroma. I have never seen the stars so clearly. The Milky Way was perfectly visible. With the glowing rock formations around us, we felt transported to an ancient time.
Day 4: I spent the day like a true Santa Fe tourist, popping in and out of galleries and shops in the plaza. The weather deteriorated as the day went on. (I brought rain and thunder with me from Florida. The 60 mph winds are not of my doing, however!) Fast-moving clouds took over the mountains and reminded me that I had seen the changing leaves just in the nick of time.
Mom and I dined at La Boca, a restaurant that combined Mediterranean and New Mexican flavors. (You really can find any type of food in this town.) My mom and I were seated right next to the couple from Portlandia, I swear.
Day 5: The film Samsara was getting amazing reviews in the local papers, so I met up with a friend and we went to the Center for Contemporary Arts to see it. It turns out that it's from the same creator of Baraka, a film I studied at Florida Gulf Coast University. Samsara is equally inspiring and moving. I left with the desire to raise consciousness in this world, and also thinking that my "problems" are so insignificant.
After the movie, my friend Stefany and I spent much-needed time catching up. She is an amazing friend and natural life coach, which is why she has built a business out of it. If you're seeking inspiration, check out Sensational Wisdom.
I went home and let out my inner child while carving a pumpkin with my niece, which she named Bob. I forced my stepdad to start a fire for ambiance.
Being that it was Saturday night, I forced myself to go out. Right as I was walking out the door, I got an invitation from a friend to have drinks at Capitol City Grille. This is one of the new bars in the South side of Santa Fe that's typically more suburban, so I found the experience removed from what I have come to know as "going out in Santa Fe." While there, I made new friends in the film industry over mojitos and sat in awe as they "talked shop" about the movies they were working on.
They had to call it a night early, so I headed to my favorite spot, Cowgirl. Rockabilly-bluegrass played as I sat sampling beers (In a blind taste test, Sam Adams Oktoberfest won me over. Surprise, surprise.) Though Santa Fe may be cliquey, I always meet interesting people. This time, I found myself chatting with a wild, old artist; a promiscuous, old hippie chick, who told me her life story; and a young physicist, who is having to relocate to Utah for work.
On a side note, it's been getting colder as I have been here, and my mother will not be turning on the heater in her adobe home until the temp reaches the 30s. I like the chilly weather, but could do without the icy bathroom, post-shower.
Day 6: I spent Sunday with my mother and niece, choosing a baby pumpkin from the church pumpkin patch and checking out all of the "warty gourds." Then, I irreverently climbed on the statues at the museum while my mom took pictures.
We finished the day with New Mexico's famous Dion's pizza, which hit the spot at the time (worked up an appetite climbing on those statues depicting the struggles of the original trail blazers), though it wasn't worth the hype.
Day 7: Monday was all business as I visited the University of New Mexico. I felt pretty inspired being there, especially when Fun's Some Nights started playing in their awesome bookstore. Speaking with the head of the English department, I definitely know they have a program that fits what I am interested in doing, but the financial and logistical red tape still remains to be sorted out.
By late afternoon, my mom and I couldn't leave Albuquerque without eating, and what better place to do so than the Sandia Resort and Casino? (In case you're new around here, my family has a crush on slot machines. But honestly, I go for the food. I don't know why, but nobody does a buffet like the Native Americans!) And no, we didn't win big. My casino and BINGO experiences could make for an entertaining blog post down the line.
I left the following day, full of ideas and possibilities. I was all but ready to move back and pursue a degree at NMU when fate would intervene a few weeks later.