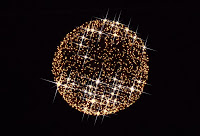 I rang in 2013 with people I love, from beginning to end. Though I was a part of the action downtown, I was content with being more of a fly on the wall, and not an active participant in the chaos that typically comes with New Year's Eve parties. (Watching a girl in clubwear puke into a trash can in the mob of people while a crowd-surfing stroller went by was amusing, but I was never more appreciative that I was neither the girl nor the parents.) It was as if the world could go on around me while I watched, as I was in a happy bubble with those who mattered. I felt a sense of calm and contentedness that I am happy to have achieved, thanks to 2012.
Maybe it's pessimistic versus optimistic thinking, but New Year's Eve feels like saying goodbye to the old year and not necessarily hello to a new one. I think about where the whole crazy ride of the previous year began, and who I was exactly one year earlier. I think about what I wanted and what I actually achieved. I recall trials and tribulations, joyous occasions and moments of epiphany. I usually find a common thread.
If I am greeting the incoming year, it's the way that an infant does. They toddle in, unknowing of their surroundings and the impact they will have on those around them and vice versa. Everything is brand new. By December, we are old and wise again.
The year of 2012 was about finding my footing on shaky ground, clarifying what I want, learning who I could trust, who would easily dispose of me and who would recognize my value. I lost friendships and strengthened others. I was deeply disappointed by many. I was pleasantly surprised by the enormous generosity of a few. I traveled, read and expanded as a human being. And then, divine intervention brought me hope.
My mother will turn 60 in two weeks. I will turn 30 in six months. This is definitely a mortality wake-up year. I am really excited for what's ahead (clueless as to what that actually is).
Just in time to celebrate "newness," click here to see what my coworkers and I are obsessed with right now.
Cheers,
Chel