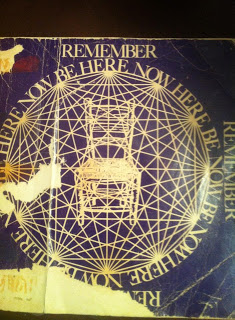 If I've learned one thing, it's to be here now.
If I took my cue about turning 30 from TV, I'd be having a crisis about what the hell I'm doing with my life. I'd find myself to be officially "old" and wonder what happened to all of those dreams I had as a kid. But I had my crisis at 28, when I got a divorce and my entire life plan unraveled.
Instead of being a year of dread, 2013 has been all about love and its many forms.
My partner and I moved in together, and haven't fought. (I'm pretty sure he's a figment of my imagination and in reality, I'm just that crazy chihuahua lady who lives alone and talks to herself.)
In March, I celebrated St. Patrick's Day with my family. (We all know nothing says love like corned beef and Irish soda bread.) That was the last celebration my grandmother, a person I loved more than anything in the world, would be a part of. She went into the hospital shortly after and suffered a series of tragic, horrifying ailments, leading to her ultimately peaceful passing in May. That time period brought my family together and proved to be one more example of how patient and loving my partner is. Also, it's in losing a person, in caring for them, in watching them suffer, that we realize how deep our love for them truly is. I verbally acknowledged how important my grandmother was to me on a regular basis, but I felt her stitched into the fiber of my being as she was dying. I was so lucky to have had her, and to have had her as an example of how to love.
In the spring, I went on my very first cruise and first visit outside of the country. I experienced the love of being welcomed into my partner's family. I cried behind my sunglasses as the begging, disabled children paraded by on the streets of the Bahamas, feeling ashamed of being categorized as a frivolous, wealthy American. I know that the tsunami of negative emotions I felt came from a place of love and empathy for the people, and a deep gratitude for what I have been given in life. I was in awe of the beauty of the land and sea, and the engineering feat that is an 11-plus-story building floating on water.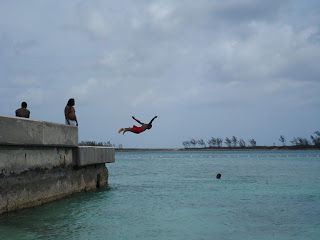 Jump.
This summer, we went to SeaWorld and watched the stunning whales, dolphins and sea lions…and I felt thankful for my bed and safety of my modest apartment after becoming frighteningly ill at the hotel from sun exposure.
I met my tiny goddaughter, and what human ever meets a baby without thinking of life? Infants can do little else but love, and remind us of love.
For my 30th birthday, we went to the Keys with friends and my partner's family. There, I felt more love, astonishment and appreciation for being accepted, for good company, for the opportunity and for the amazing sea life that allowed me to swim with them in the Atlantic. (Cue Heart: Ooooooh barracuda…)
Today, I learned that my stepfather has terminal cancer. After my mother married three men who were not right for her, it has been inspiring to see her with my step-dad, a kindred soul, for the past 14 years or so. Here's all you need to know about him: He's a cowboy-hippie-fisherman-cab driver with a thick Massachusetts accent, who cries every time he drops me off at the airport. And he makes my mom happy. He makes her laugh. And he makes a mess in the kitchen before going to bed early, but that's beside the point.
Turning 30 has made me think about life and death, but maybe not in the way TV tried to sell me. And there are still nearly five months left of 2013.