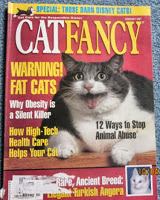 Fur is in.
The only magazine subscription I remember seeing as a child was grandmother's Cat Fancy. Later, my older sisters would read Seventeen, and in my teen years, I started reading it, too. As a senior in high school, ambitious to go to school for fashion design, and working at Walgreens thereby having access to a variety of magazines, I started reading whatever I could. I really fell in love with Allure, and was a faithful subscriber for years. I liked it because it was informative, and one of the few magazines that didn't offer articles with titles like, "100 Ways To Blow Your Man's Mind Tonight." (When I say informative, I mean as far as makeup and beauty products go. There was always new research and insightful articles.) In my mid-twenties, I found Bust magazine, which I still find relevant. It's the alternative to every women's magazine that tells us how to behave. Later, I discovered Marie Claire and was surprised that such a mainstream "fashion" magazine had intelligent and worldly articles inside. Each month, I would read about women who were shaping our world. I would read about politics and global issues, right alongside the fashion spreads of the season. So during one of my daughter's school fundraisers, I subscribed.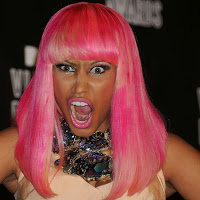 Because if anyone should be a
30-year-old's role model, it's Minaj.
But the magazine took a turn.
Suddenly, who's on the cover, but Nicki Minaj. Giving the magazine the benefit of the doubt, I read the article…and lost a few IQ points in the process. Minaj didn't share what made her who she is today. She didn't reveal how she single-handedly overcame strife and climbed the ladder of success. The article was shallow, just as I – rightly or wrongly- assumed it would be.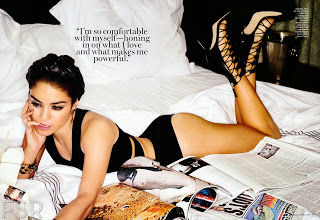 Isn't this how we all lounge around the house?
I figure the target audience for MC is educated women in their late 20s to late 30s, so it's disappointing to think that so many people in this demographic would find inspiration from the likes of, say, one of the other recent cover girls, Vanessa Hudgens. Hudgens, who is posed casually reading in her size 0 leather bathing-suit-like-number, isn't even IN this demographic herself. And how many women do YOU know in this category who are a size 0? How about a 2? A 4? Bueller?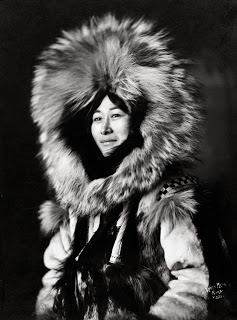 Top trends for fall, if your husband hunts whales.
In one of the following issues, there was a spread about the latest fall fashion: fur. And I don't mean just one piece. We're talking pages of ways to wear fur. Really, Marie Claire? You do realize that it's 2013, that the public is growing more aware of their environmental footprint, correct? Who buys fur, and why? Unless you're an Alaskan Inuit, you don't have a leg to stand on.
Either the women in my demographic are seriously letting me down by handing over their brain cells to reality TV heiresses, or MC and other magazines are trying to force us to be interested in this trivial crap, and to ultimately feel shitty when we have any sort of genuine life moments. (You are not plastic. You don't have a fortune and handlers following you around. Do you really want to be influenced by people who do?)
I guess having these revolutionary thoughts is a result of reading too much Bust magazine. 😉