I have never been an athlete. From my observations, it seems that an interest in physical fitness is typically fostered from a young age. My first experiences in this area, however, were anything but nurturing.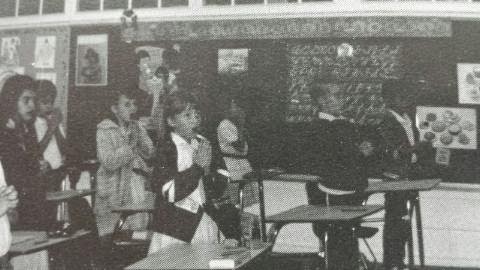 I'm the one in the faux fur coat. Seriously.
Picture it: Small Town, Florida, 1990-something. PE classes at my Catholic school were not held in a gymnasium, rather on the boiling asphalt parking lot or the neighboring all-purpose, soccer/ football/ capture-the-flag/ softball/ kickball field… Then imagine me, a fair-skinned, freckle-faced, borderline ginger, beet-red (most likely from sunburn as there was never any mention of sunscreen at that time) and dripping with sweat. There would be no hydrating, as the luxury of a drink from the water fountain would be timed at the very end of our class, moments before being expected to pay attention in math class or a subject equally intense.
My PE teacher wasn't exactly a role model. I'm sure her heart was in the right place, but the woman, known simply as Coach, tipped the scales (with her abs?) and rarely led the activities by example. She had a hoarse voice, a mullet, a leathery tan and an elusive smile reserved only for when the boys or tomboys cracked a joke. She was the quintessential gym teacher of the 80s and 90s.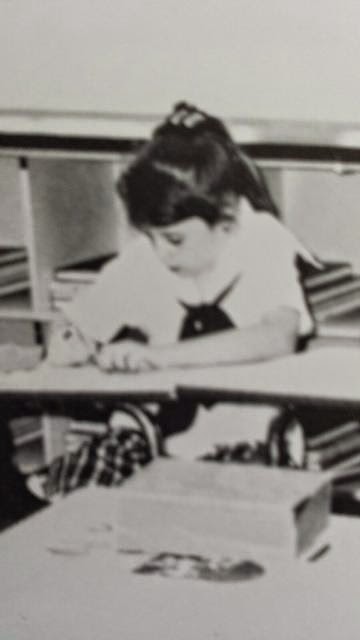 I always did better in the air conditioning.
Coach told us which sport we would be playing for the next week, or several weeks, and then supervised as we played. I don't recall there being instruction on how exactly to play each game, or time spent explaining it to those of us struggling to grasp the concept, perhaps from heat stroke as we were forced to participate only after "warming up" with several laps around the parking lot and some half-hearted jumping jacks. You either understood the game and enjoyed it, or you hated it, sucked at it and just had to deal with being picked last. Those of us who were afraid of the ball were resigned to the fact that we were awful from early on. There weren't any "practice makes perfect" mantras or guidance from Coach.
The class was merely a second recess for those students who enjoyed organized sports, and Hell for those of us who couldn't handle the heat, literally. To further exemplify what a joke the class was, Coach allowed us to get out of running our laps by bringing in a certain number of Campbell's Soup labels, which could be redeemed by the school to help supply PE equipment. Therefore my family, including extended family, had large amounts of Campbell's cans, with the labels ripped off, in each of their cabinets. Bare, silver cans labeled only with permanent marker, lined the shelves, as my family was clearly supportive of me, but not of my future ability to sprint to the mailbox without getting winded.
In high school, I opted to fulfill my one and only mandatory PE credit during the ungodly heat of summer, all because it meant I would get it over with in a month's time, instead of spreading it out over a year (and having to use a locker room in the five minutes in between classes). That was the last time I ran a mile, and I'm pretty sure it took me at least 13 minutes.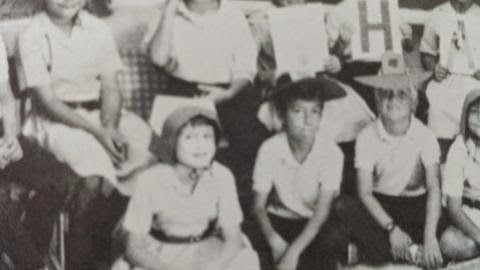 First grade. Thrilled to be a Pilgrim.
I didn't really understand the link between exercise and my health until I started working out at Curves, a fitness facility generally associated with older women, when I was 20. I went there daily as a stress reliever, but ended up losing 20 pounds, building muscle, lowering my BMI and eventually getting a job there. There I was, the least athletic "trainer" ever, inspiring, encouraging and supporting other women, many of whom had never been athletic themselves, either.
Like most of my forays into fitness though, life got in the way and my Curves attendance didn't last, but at 27, I took a course in beginner's yoga and fell in love. Though I've had daydreams of becoming a yoga teacher, I remain the least flexible human on the planet, and only find time to practice a handful of times a year.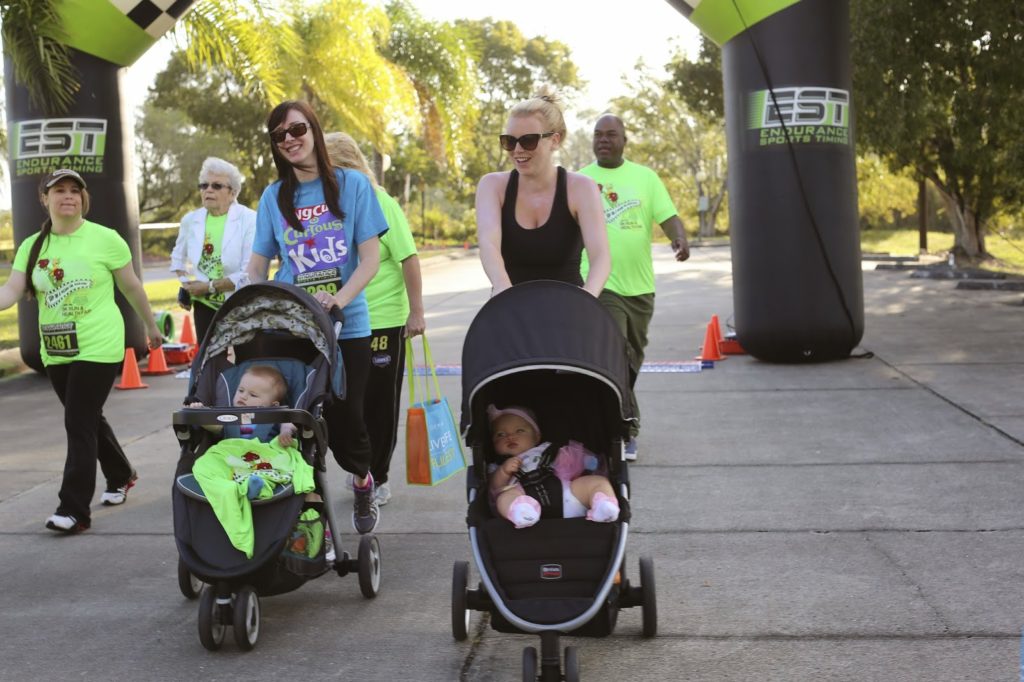 Look how active our babies are!
The social media running hype of the last five years has only pushed me farther from any desire to get physical. It appears that a cult of trend followers sign up for every type of run imaginable, post multiple pictures before during and after, and gloat if they get a medal. In truth, if a zombie run, color run, mud run, wipe-your-butt run motivates people to exercise, who am I to judge? And if social media makes fitness contagious, what's not to love about a healthier population? It's the competition for more "likes" and "followers" that disturbs me. Having said this, I actually participated in a 5K in an effort to support my daughter, who wanted to give it a try. I wouldn't have done it at all, had it not been for my husband informing me that it was OK to walk (an exercise that a stamina-lacking, uncoordinated human can get down with). So I had a leisurely time, pushing Angelo in his stroller. A friend joined me, and thus, the Holy Strollers were born.
My question is, where were these alternative forms of exercise in my youth? Why didn't Coach give us a wider array of options, instead of a one-size-fits-all approach? I grew up thinking (like many) that I hated fitness, when in reality, no one showed me anything other than that sweltering heat and regular embarrassment. And no one took the time to really explain organized sports to me, or make them even remotely entertaining. But honestly, maybe even if they had, I would still be afraid of the ball and I'd still be bored to tears at games. Even with today's more modern approaches, there are probably still kids hating life when that bell rings, signalling the beginning of PE class.