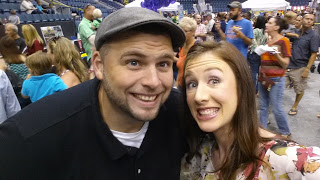 Surviving-the-whirlwind faces
My husband and I celebrated our first wedding anniversary in May. Though this inaugural year of marriage was filled with events that would test any relationship (bought a house, moved, had a baby, survived the newborn phase), neither one of us regrets saying, "I do." (Yay!)
For a trip down memory lane, read my post about the wedding here.
It seems that having been married before is actually a gift to my husband now. For one thing, when I effortlessly get something intangible from my husband that I fought relentlessly for in my previous marriage, I appreciate him so much more. I'm going to hypothesize that it all boils down to security. When we feel secure, knowing our partner will meet our needs, will not reject us, will stick to the plan, or will protect whatever vulnerabilities we have, we are better team players. Imagine a wild animal who acts out out of aggression when it feels it's them against the world. Certain pairs of humans are simply better suited for protecting each other, but we often don't realize this until we've made the wrong choice. Though it's of no comfort to my single brethren out there, you really will know when it's right.
When I made the wrong choice, oddly I wasn't acting on either chemistry or logic. I was forcing my naive 21-year-old agenda. One that was formed based upon witnessing and experiencing multiple bad relationships, essentially forming a what-not-to-go-for mindset. There was no heart in my decision until I was so emotionally tied to the other person that it seemed to be "too late" to remove myself.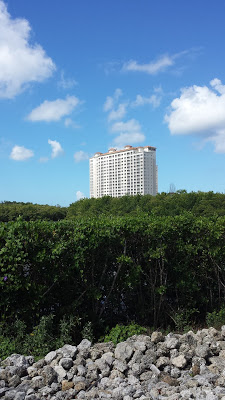 With my husband, however, chemistry brought us together and logic (what we wanted out of life) sealed the deal. I still want to be with him all the time, which might be the newlywed in me talking, but I don't want any kind of break. I want to go on grand adventures with him, while I'm simultaneously completely content to build a little life here in the suburbs with him. Nothing is missing.
Though we didn't jet off to an exotic location (and have yet to take a honeymoon), we celebrated our anniversary with a night away from the baby and a morning of room service (one of my favorite things). And then we bought bamboo plants for our little piece of paradise. They'll tower over our home and spread out with every year that we're married.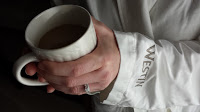 I only play a model for
Westin hotels online.
May you find the cheesy kind of love detailed here today.