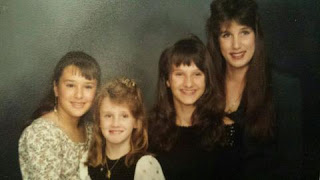 Act natural. (What was wrong with me? Seriously.)
Once upon a time, in the land of hair spray and cassette tapes, a family unit would travel to the nearest Sears/Walmart/JC Penney portrait studio in order to awkwardly pose in the fashion of the day and capture the moment in time. (See Exhibit A, to the left.)
Though modern day families may opt for a more spontaneous photo shoot, the time-honored tradition remains, and they're still willing to shell out beau coup bucks for a professional to snap those coveted shots.
As an adult with a family of my own, however, we have no such images. We are an utter disappointment to the World O Pinterest.
We paid a photographer friend a very modest amount to take pictures of our wedding ceremony. A photographer at the hospital attempted to take pictures of my writhing, angry newborn a day after his arrival, but search my home and Anne Geddes-style images are not to be found. And now, just before his first birthday, I've decided to forego the experts' fees once again, opting instead to pay that pesky electric bill.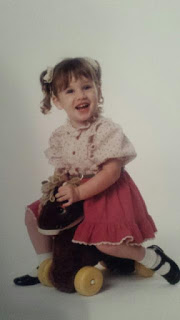 Worthy investment. Me, at 2 or 3.
But just for shits and giggles, I checked out a few local photographers and found a ridiculous new trend: Where there once may have been a tab listing the individual's fees or pricing options, there's now the word "investment." Because how better to make a woman spend money than to insinuate buying these portraits will be worth it in the long run (and that not buying them will fill her with regret)?
An investment is something I dump a relatively large amount of money into now that I hope will appreciate in value the longer I have it. My home was an investment. Effort put into my marriage is an investment. Images that no one will ever want to buy from me and that can be destroyed faster than I can say "hurricane" are not investments. Of course, I'll be glad to have taken family photos generations from now, but what makes a professional photo any more of an "investment" than one I take myself?
I get that photography is art and that it's hard to make a living as an artist, but this label seems straight out of a How to Price Your Work tutorial on Etsy, or maybe a pretentious lesson taught in a business class at an art school.
Having said this, I love the look of those on-location-professional-pictures and will probably get some taken before my daughter turns 18 and leaves the nest in two years. However, I will go with a photographer who isn't desperate enough to market his or her work as an investment.