*This post was published late because, for those of you who haven't made a cross-country move, everything takes the back burner when you're living out of boxes and suitcases.
The cat's out of the bag. We're moving to Detroit (er-the Detroit Metro Area)!
After much consideration, we decided to sell our home and many of our possessions to take a job in a city just outside of Detroit's city limits. It's either wildly irresponsible or the most fortunate thing to happen to us. No doubt it's risky, but nothing ventured, nothing gained.
(I first wrote about the challenge of making this decision here.)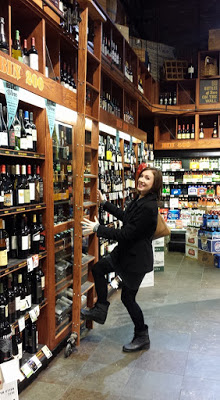 The city had me at "Westborn Market."
Not only is it hard to leave our support system when we have a toddler, but it's hard to surrender a house we bought less than two years ago. We have unfulfilled dreams of various DIY projects we thought we'd complete during our "5-year-plan" here. And, there's a lot to be sentimental about: this is the first home we bought together. I labored in this home and subsequently survived the first year of our son's life in this home. Time spent with friends, family and pets here, my adventures as a stay-at-home mom…it all happened against the backdrop of this home, which we're giving up too early.
But everything is a trade-off. One thing I know for sure, is that life isn't about the things you have. So, I find myself, yet again, purging my belongings and starting over. It is, however, exciting.